​Portage ​
What is Portage?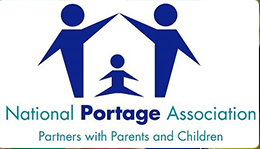 Portage is a home visiting educational service for pre-school children with additional support needs and their families. The aim of Portage is to work in partnership with parents/carers in supporting the key areas of a young child's development. Portage works closely alongside other relevant agencies involved with the child and family in sharing ideas, setting targets and reviewing progress.
How Portage Works
Portage is a partnership between parent, child, and Portage worker. It offers a framework of support, which respects each family and their own individual priorities. It is a model that adapts flexibly to individual children and family needs. For Portage to be effective, parents must be committed to carrying out agreed activities and/ or strategies consistently and on a regular basis.
Families are visited weekly or fortnightly at home by their trained Portage Worker. Parents/carers share with the Portage Worker their own understanding of their child's individual strengths, abilities and support needs. Profiles or developmental checklists may help with the process of identifying what the child can do and planning goals for future learning.
The emphasis is on the positive, finding out and building on what a child can do. Parents are empowered to take the lead in planning their goals ensuring that Portage support is relevant to the needs of their child and the family.
Goals may focus on developing movement, learning, play, communication and participation in the activities of everyday living.
The aim of each home visit is to decide on an activity which the family can practice and enjoy together. The activities are based on play, grounded in everyday situations to provide fun and success for the child. Each activity may represent a small step towards one of the family's planned goals and families accessing Portage are encouraged to practice the activities between the visits. Parents may use charts or diaries as a reminder of the activity and as a record of what happens between visits. In this way the family can build a shared record of their child's involvement with Portage.
Portage supports the child's transition from home to the Early Years setting and from the Early Years setting into school.
Portage supports the child in the Early Years setting to help facilitate further progress through shared planning and agreed targets.
Fundamental to the Portage approach involves:
Partnership with parents, carers and other professionals with a commitment to inclusion
Empowering parents to build on their child's strengths using a positive approach
Using small steps to support learning
Learning through play and having fun
Working together and celebrating achievements with the child and family
Referral to Portage
Requests for Portage involvement are received from parents/carers, and with parental consent, from a range of health professionals and Early Years providers. A referral can be found below.
Criteria for Referral – Request for Portage support:
Referral is considered for children from birth to school age, whose development is delayed by approximately one third of its age in at least two different skill areas or a diagnosis or recognised syndrome which is likely to lead to a delay in their learning such as their understanding, self help or physical skills.
All referrals will be considered on an individual basis at the discretion of the Portage team.
Initial visit
Families are initially offered six planned visits. Further six week cycle of visits to be discussed on a Plan, Do, Review cycle in agreement between the parents/carers and Portage team.
To ensure commitment to the service - if a family fail to engage in the service e.g. were not available for three consecutive planned visits, the relevant Portage team will write to the family to explain and if agreed within the team, the family would go back onto the waiting list.
National Portage Association (NPA) Stamp of Approval
The NPA Stamp of Approval scheme is an award given to early years settings who have demonstrated they deliver inclusive early years education based upon the Portage Principles. Child minders (registered with OFSTED) who offer early years education are also eligible to apply.
The Lincolnshire County Portage Service teams promote the scheme to early years settings via the Stamp of Approval materials, presentations at SENCO network meetings and as part of the delivery of the 3 day Portage Workshop.
The Portage representative from each locality team, to act as a point of contact for interested settings, by which to gain the relevant promotional information, application forms and guidance in working through and completing the required criteria.
The locality Portage representative to visit the setting to discuss the application and any supporting evidence that has been gathered.
Portage 3 Day Workshop
The training is an introduction to the Portage Approach to working with children with SEND and their families.
The 3 day course consists of 7 modules plus an opportunity for practitioners to reflect on their learning and consider the implementation of the Portage model into daily practice
The course is aimed at the Early Years Workforce, including Early Years Practitioners/SENCOs working with Under 5s in PVI, Maintained and Children's Centre settings; Reception Class Teachers; Teaching Assistants; Parents/Carers; Child-minders and Foster carers. This is a certified training course delivered by NPA accredited trainers across the County.
To ensure continued training of the Portage model across the Early Years sector and practitioners within the County, each Portage locality team to support delivery of the Portage Workshop and work towards achieving accredited training status.
Who can refer?
Referrals can be made from birth by parents/carers or any other agencies involved with the child to:
Vicki Billyard (Portage Co-ordinator)
Willoughby Academy
South Road
Bourne
PE10 9JD
01778 425203
Website Links for further information
Lincolnshire County Council - http://www.lincolnshire.gov.uk
National Portage Association - http://www.portage.org.uk/